Chibi Relena's
Poemetry Corner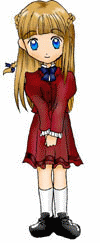 Hi! This is Relena! An' welcome to my Poemetry Corner!
This is the place that we keep any Gundam Wing poemetry that gets sent to us.
If anybody wants to send poemetry for this page they sure can! Our webmommie will rate the poemetrys 'ccordingly to the kinds they are, just like she does with the storys. Just be sure to read the Submissions Guidelines on the Gundam Wing Fanfic Page 'fore you send 'em in 'cause the same rules we gots for storys are for poemetrys too.
Enjoy!
Poemetrys
1. Set Me Free
by deaths_princess05
(PG-13, serious subject-matter)

2. Sea of Love
by Princess Mei
(G)

3. Her Courage
by Tegan (G)

GO TO THE SHOOTING STARS COLLECTION: A GUNDAM WING IMAGE ARCHIVE