Relena: Heero, 'scuze me for a minnit here.
Heero: What do YOU want! Go 'way!
Relena: Well! You don't hafta be rude! I was bein' p'lite!
Heero: (has resigned himself to the inevitable) Okay, what do ya wanna say?
Relena: I just wanted t' give a good 'zample of a mem'rable quote. Here it is,
with my fav'rite pitcher of you 'n me!
* * * * *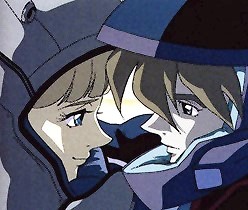 Heero: I will defeat Zechs, and I'll go get Treize. Then the war will be over.
Afterward, if you make it out of here, there will finally be peace.
This is the only thing I can do for you.
Relena: Heero....
Heero: I promised I would protect you. But in order to protect you
and the earth sphere I have no choice but to fight.
Relena: No.
Heero: Please let me fight.
Relena: No way. Heero, you're planning to die, aren't you?
Heero: Believe in me.
* * * * *
Relena: (sighs) Isn't it ROMANTICAL?!
Heero: Melody! Will you get her outta here an' make her leave me 'lone?!
Melody: What's the problem?
Heero: Relena's innerfearin' with my page!
Melody: Let's see. What has she done?
Relena: I jus' put up my fav'rite quote with my fav'rite pitcher of Heero an' me.
Heero: Make her take it down. This is MY page, ya know.
Relena: I'm just makin' a contrib-union to it is all. He said he wanted some a those.
Melody: She's right, Heero. This is a contribution page and she is entitled to
contribute to it just as much as anybody else.
Heero: (mutters) Women! They all-ways stick together!