The Chibi Board of Directors'
Image Arkive Hopsbital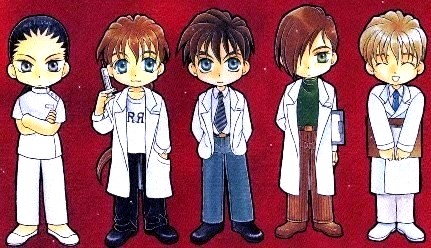 Hi, ev'rybody an' welcome to the Hopsbital! Here will be pics that have been doctored in some way. There will be "cleaned up" black & white pics, colorized black & white pics an' altered pics. If you wanna submit doctored pics to the hopsbital, send 'em to us! The rule is that they HAFTA be made by YOU. For the b&w pics an' colorized b&w pics, please send us the original pic as well as the doctored one. That's not ness'sary for the altered pics. Have fun!

So what part of the hopsbital do you wanna visit?

Pediatrics
(21 pics)


Cardiology Wing
(20 pics)
*New for March!*




Ophthalmology Dept.
(61 pics)
page 1
page 2
page 3
page 4
*New for February!*



Vet'rinary Clinic
(26 pics)



Women's Clinic
(8 pics)



Visitor's Lounge
(4 pics)


Family Medicine
(2 pics)
GO TO THE MAIN PAGE OF THE SHOOTING STARS COLLECTION: A GUNDAM WING IMAGE ARCHIVE